The particulate filter on diesel-powered passenger cars and trucks can be clogged at a very short run. DPF Cleaner starts a combustion that cleans the particulate filter and is the most economical way to maintain the engine power and life of the particle filter. Replacement of diesel particulate filter is today the single most expensive repair cost on a passenger car.
Dosage: 1 liter to 40 - 60 liters of diesel.
Gasoline Optimizer cleans spreaders for optimum engine input and power, and effectively lubricates today's "dry" gasoline and ethanol.
SKU:
#450 ,
Qty:
In Stock
,
Delivery time:
1-3 days
24,00 €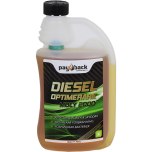 Moly 2000 is a true diesel optimizer that provides clear, measurable results.
SKU:
#460 ,
Qty:
In Stock
,
Delivery time:
1-3 days
24,00 €